---
RETURN TO UNCONQUERED BOSNIA HOMEPAGE
---
Archive of Articles and Links on the Medical
and Psycho-social Aspects of the War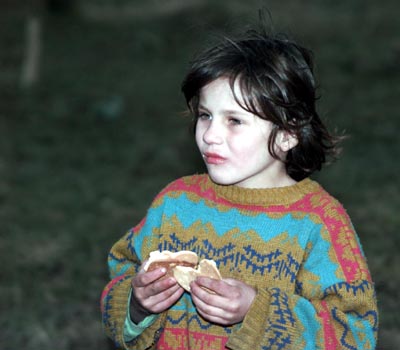 A Bosnian war child. Photo: Task Force Eagle
---
Working with Children of War
War Child Bulletin #1: History of War Child
War Child's Music Centre Project
War Child's 'War and the Traumatised Child'
UNICEF programs in BiH
UNICEF's Yugoslavia clinic for war-affected children
Project Pakrac
---
Working with Refugees
An Australian project on Bosnian refugees
---
Medical Issues
List of Health and Social Links
University Children's Hospital (Sarajevo)
Pediatric Association of BiH
1995 (July 24) 'U.S. Doctors Teach, Learn in BiH'
Friends of Bosnia sends medical supplies
1996 (Dec. 21) 'Toxic Waste Sent to Bosnia As Aid'
Questioning drug-donation practices to BiH
Stray animal control project
---
War Trauma
U.S. psychologists train Bosnians and Croats in PTSD
War-related stress: major health concern
---
Social Approaches
List of Health and Social Links
"My Heart's In Bosnia" aid network
Peace Education by Maja Uzelac
Chaos and Caring: Humanitarian Aid Amidst Disintegrating States
The Code of Conduct: Whose Code, Whose Conduct?
"Can We Save Aldin?"
"Can We Save Aldin?" part 2
Hope on the Balkans
Seeds of Peace (summer camp for Balkan youth)
'Ethnicisation, Forced Migration, and Social Work In Croatia' (Refugees Studies Journal)
---
Refugees and Displaced Persons
Story of a refugee family from Sarajevo in U.S.
Bosnian teens return after a year in America
---
Articles from 'Anthropology of East Europe Review'
'Reflections On Croatia 1960-1992'
'Bridge on the Sava: Ethnicity In Eastern Croatia 1981-1991'
'Ethnography of War: Croatia 1991-1992'
'Ethnic Intermarriage In Yugoslavia'
'Unmaking Multi-Ethnicity In Yugoslavia'
'Nationality Issues In Bosnia'
'Reclaiming Lives: Variable Effects of War and Ethnic Identities in the Narratives of Bosnian and Croatian Refugees'
'The Yugoslav Labyrinth'
'The Triumph of Chauvinistic Nationalisms In Yugoslavia'
'Reflections on the Violent Death of a Multi-Ethnic State: A Slovene Perspective'
'Narratives of Women Refugees From the Balkans'
'Changing Visions of Self and Nation Among Kosovo Albanians'
'Belgrade Student Protest 1992'
'Macedonia: A Country In Quotation Marks'
'Some Thoughts On the Dissolution of a State'
Film review: 'We Are All Neighbors'
---
Aid Convoys
1995 (June 8) 'Bosnian Truckers Take Over Where U.N. Leaves Off'
---
Searching For the Missing
1996 (Mar.) UNHCR Report on Missing Persons In Former Yugoslavia
Red Cross Project to find BiH war missing
Persons Unaccounted for in BiH (send-in form)
1997 (Nov. 23) Return Information Contacts for Refugees
---
NGO's (alphabetized)
American Refugee Committee (BiH)
Bosnian Children Relief
Open Society Fund (Soros Foundation) homepage
OXFAM homepage
Physicians for Human Rights
Project HOPE
United Methodist Church (Response Efforts in BiH)
---
RETURN TO UNCONQUERED BOSNIA HOMEPAGE