---
RETURN TO UNCONQUERED BOSNIA HOMEPAGE
---
This article does not have permission of the copyright owner, but is
being offered for comment, criticism and research under the "fair use"
provisions of the Federal copyright laws.
Source: BERSERKISTAN
---
---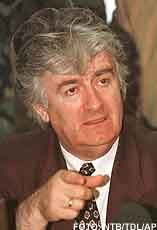 Doctor Radovan Karadzic
'Why don't they ever mention his poems about nature and children?'
Karadzic's wife


BELGRADE, May 4 (Reuter) The wife of Bosnian Serb leader Radovan Karadzic believes the West misunderstands her internationally vilified husband, according to a new book. Ljiljana Karadzic's husband has been indicted by the International war crimes tribunal in the Hague as a war criminal over his involvement with the 43-month-long siege of Sarajevo.

"They say in the West that Radovan wanted to destroy (the Bosnian capital) Sarajevo in revenge because he was marginalized as a Montenegrin at parties," Ljiljana was quoted as saying, according to excerpts in the Serbian magazine Vreme (Time).

"They quote his poem, the one he wrote in 1969, where he said he wanted to burn Sarajevo down, and they compare him with (the notorious Roman Emperor) Nero. It was just a moment of depression," she said. "Why don't they ever mention his poems about nature and children?"

Mario Mian's book "Karadzic -- Hangman, Psychiatrist, Poet" also quoted Ljiljana Karadzic as complaining about the personal impact of Serbia's sanctions on the Bosnian Serbs. "Me and my daughter Sonja were unable to attend (Serbian warlord) Arkan's and Ceca's wedding in Belgrade," she said. "I would've worn my Chanel (suit) -- the one I wore when we greeted (former U.S. president Jimmy) Carter."

Analysts say Karadzic's continued dominance of Bosnian Serb politics is one of the main stumbling blocks to the successful reintegration of Bosnia as a multi-ethnic state.
---
RETURN TO UNCONQUERED BOSNIA HOMEPAGE