---
RETURN TO UNCONQUERED BOSNIA HOMEPAGE
---
This article does not have permission of the copyright owner, but is being offered for comment, criticism and research under the "fair use" provisions of the Federal copyright laws.
Source: From bosnews Fri Oct 20 1995
---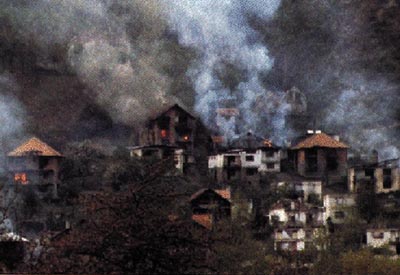 Gorazde in flames

photo: Task Force Eagle

19 Oct 1995
GORAZDE, Bosnia and Herzegovina
Aid Convoy Entered Gorazde

For the first time during the current cease-fire a humanitarian aid convoy came to Gorazde, eastern Bosnia. The UN convoy used the road via Pale and Rogatica, facing no obstructions, nor was it stopped by Serb paramilitary at their checkpoints. Opening of the road towards Gorazde is a part of the cease-fire agreement. Serbian siege of the town and surrounding villages has lasted for 42 months.

The civil trucks' and buses' traffic to and from Gorazde was announced in
Sarajevo's UNPROFOR seat to resume, as soon as the UN estimates the road to be safe enough. Such traffic would be ensured by UNPROFOR armored vehicles.
---
RETURN TO UNCONQUERED BOSNIA HOMEPAGE