---
RETURN TO UNCONQUERED BOSNIA HOMEPAGE
---
This article does not have permission of the copyright owner, but is
being offered for comment, criticism and research under the "fair use"
provisions of the Federal copyright laws.
Source: (Department of State) [from the SEVENTH REPORT ON WAR CRIMES IN THE FORMER YUGOSLAVIA]

---
Gorazde, 1992 attacks: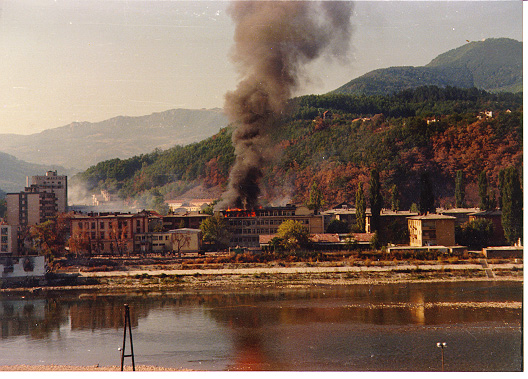 Gorazde under siege

Photo courtesy Peter DePree


May-July 92:
An elderly Muslim woman was living with her family on the
outskirts of Muslim-controlled area of Gorazde, when in May, 1992,
Uzicki corps from the Serbian town of Uzicka stationed tanks on
the mountain of Povrsnica, outside Gorazde.

On May 4, the Serbs announced that a Muslim had killed a Serb and,
according to the witness, used this as a pretext to begin bombing
the city. She saw the Serb bombing of Hotel Drina, which housed
numerous Muslim female and child refugees from neighboring areas,
and the victims' bodies strewn over the pavement. From May 4,
local Serbs, who had roam around town harassing Muslims, removed
the stockings they have been wearing over their heads to conceal
their identities. Thus, the witness was able to identify many of
the perpetrators of atrocities in Gorazde.

In mid-June, the witness saw Serbian soldiers massacre Muslims in
a settlement at the foot of the mountain and throw the bodies into
the Drina River. On July 19, a Serb soldier came to her house on
the Povrsnica mountain and killed her daughter. Local Serbs had
already taken away her son-in-law on May 26.


---
This article does not have permission of the copyright owner, but is
being offered for comment, criticism and research under the "fair use"
provisions of the Federal copyright laws.
Source: (Department of State) [from the SEVENTH REPORT ON WAR CRIMES IN THE FORMER YUGOSLAVIA]

---
Summer 92:
According to Muslim witnesses, Muslims conducted revenge killings
in Gorazde during the summer of 1992, executing innocent Serbs
summarily and destroying whole districts where Serbs have
congregated. Gorazde city officials confirmed that there had been
no trials.
---
RETURN TO UNCONQUERED BOSNIA HOMEPAGE