---
RETURN TO UNCONQUERED BOSNIA HOMEPAGE
---
This article does not have permission of the copyright owner, but is
being offered for comment, criticism and research under the "fair use"
provisions of the Federal copyright laws.
Source: Department of State, from the SIXTH REPORT ON WAR CRIMES IN THE FORMER YUGOSLAVIA

---
Arkanovci in Zvornik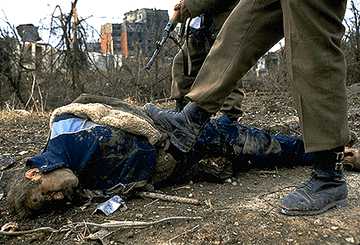 6 April 92:
A 43-year-old Bosnian Muslim witnessed murders by Bosnian Serb
militiamen. On April 6, the witness fled Divic in the hope of
finding greater security at Hasim Hadziavdic's home in Zvornik, a
few miles to the north. When Bosnian Serb militiamen arrived there
as well, he ran into the woods behind Hasim's home, after failing
to convince Hasim to flee with him. Hasim felt he had to stay
because his wife was disabled and could not have kept up.

At about 4 PM, from a hiding place behind a nearby shed in the
woods, he saw a group of Arkan's soldiers approached Hasim's
house. He recognized one of them as a local "secret policeman."
The police, carrying a list, went into the house and came out with
Hasim and a 74-year-old neighbor.

The witness was close enough to hear the police demand to know
where Hasim hid his money. In the middle of the discussion,
shooting started inside the house. Moments later, Hasim's wife was
brought out, bleeding from her head, nude from her waist up. She
was dragged past her husband, the neighbor, and the interrogators
and into a waiting car.

The Serb police continued questioning Hasim, now demanding to know
where Hasim and other local Muslims were hiding their guns. When
Hasim pleaded "Where should I get guns from," the police abandoned
the interrogation and ordered a Serb soldier at his side to
"slaughter him." The nearby soldier grabbed Hasim by the mouth,
yanked his head back, pulled out a large knife, and cut Hasim's
throat open. The elderly neighbor fainted immediately. The same
soldiers stepped on the old man's chest and slit his throat too.

The police and his accomplice moved to the next house, which was
already being searched by other members of Arkan's militia. Sehic
Halija, an old man sick with cancer, was waiting outside along
with his son. Hakija tried showing his medicine as proof of his
illness, but the same soldier who had just murdered the two men
next door similarly cut the throats of Hakija and his son. The
witness said that 46 people were killed during that one hour by
Arkan's men.
---
RETURN TO UNCONQUERED BOSNIA HOMEPAGE